MagSafe Battery Pack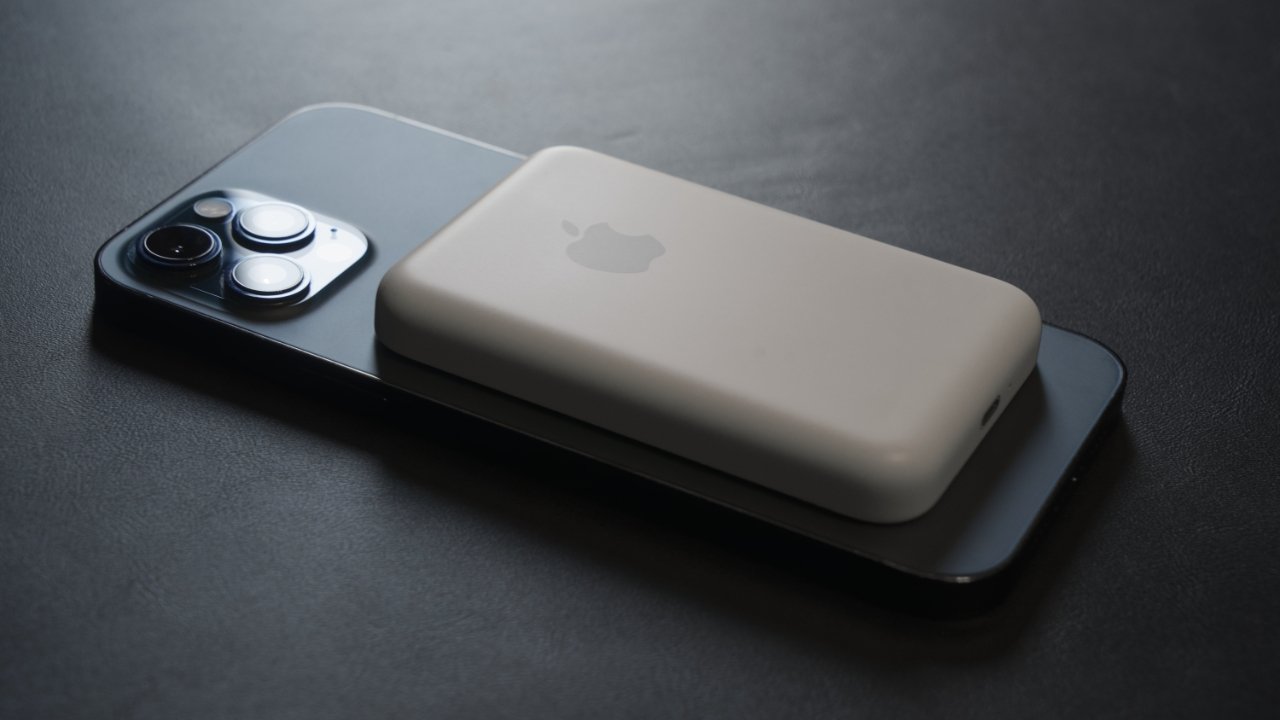 Apple's MagSafe Battery Pack allows users to recharge their iPhones without the hassle of cables or bulky power supplies. This multifaceted accessory can add about 2,000mAh of power to your iPhone on a single charge, acts as a 15W charger when connected to power, and requires no user input to work.
● MagSafe
● 15W charging when connected to Lightning
● Performs 7.5W wireless charging
● Supports reverse wireless charging from connected iPhone
● 11.13Wh
● 4.46in x 3.24in x .93in
● Get the latest deals on Apple gear
● Discounted prices start at $87.95
---
Get Apple News Directly in Your Inbox
AppleInsider may earn an affiliate commission on purchases made through links on our site.
---
The MagSafe Battery Pack is the successor to the Apple Smart Battery Case and is compatible with any iPhone with MagSafe. It has a relatively small charging capacity but has multiple unique features that make it a worthwhile purchase.
Previously, customers would have to purchase a battery case that precisely fit their current iPhone model. If the next model changed any aspect of the design, the old battery case would become useless to upgraders.
The move from a case to a magnetic pack enables it to be useful across device sizes and generations. So long as iPhones use the current iteration of MagSafe, the battery pack will work. This also enables easy sharing between family members, as long as everyone is sporting a MagSafe-capable iPhone.
Apple has packed some smarts into the MagSafe Battery Pack alongside the battery itself, so there is no need for user interaction. Instead, users need only attach the battery pack to begin charging their iPhone.
Features
The feature list for the MagSafe Battery Pack is short and straightforward. It is a battery pack meant to augment the internal battery of your MagSafe-compatible iPhone.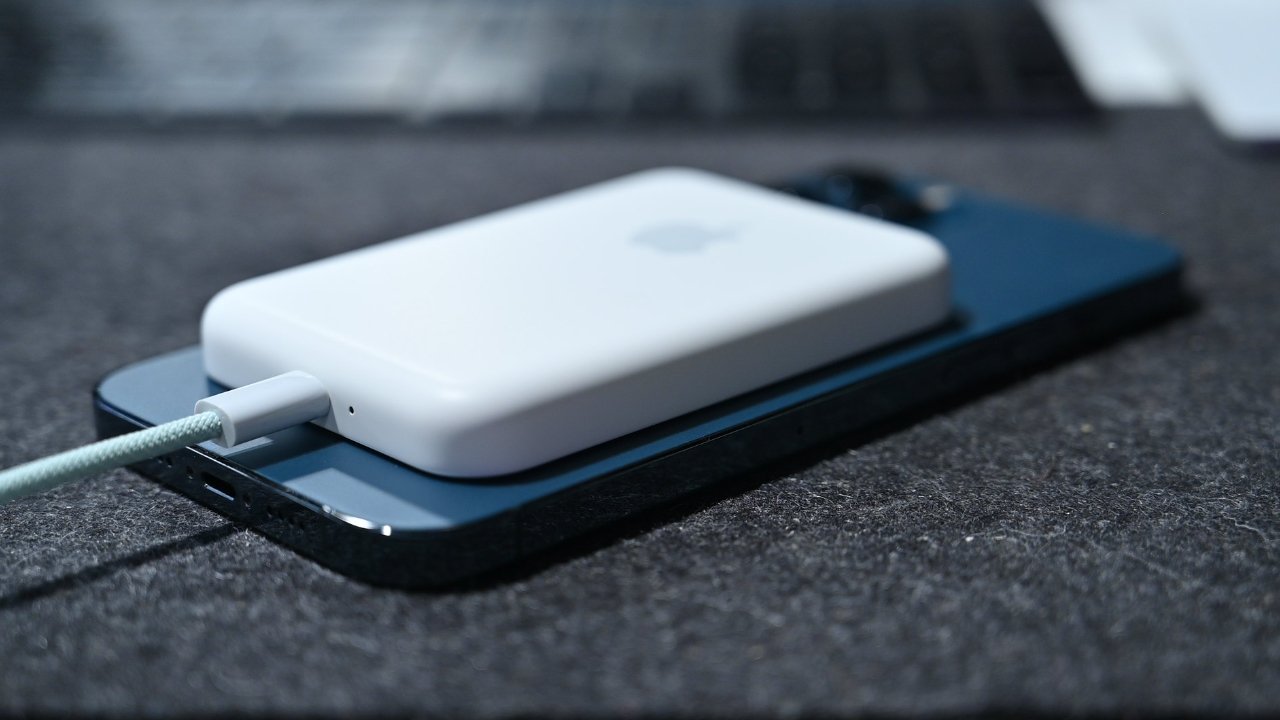 The battery pack magnetically attaches to the back of the iPhone and charges it automatically based on several factors. For example, once the iPhone reaches 90%, the battery pack will stop charging to maintain efficiency.
Connecting the battery pack to power turns it into a makeshift MagSafe Charger. The battery pack will charge at 5W while also providing 15W of power to the iPhone. However, the power adapter will need to be 20W or greater to work correctly.
The unique feature of Apple's battery pack is reverse charging. Connect the iPhone to power with the MagSafe Battery Pack attached, and it will be charged via the iPhone.
Apple hasn't provided much detail about the reverse charging feature. Presumably, the iPhone will need to be fully charged before it starts passing power through to the battery pack.
The battery pack originally shipped with only 5W wireless charging but increased to 7.5W wireless charging via a firmware update released in April 2022.
Design and Dimensions
There is only one color option for the MagSafe Battery Pack — white. The soft-touch plastic material doesn't attract fingerprints easily and feels almost rubbery to the touch.
It is designed to be the exact width of an iPhone 12 mini and slightly thicker than any iPhone 12 model. It measures 4.46in x 3.24in x .93in and weighs about 4 ounces.
There is a small cutout for an LED to indicate when the battery pack is working. It briefly shows a green light when connected to an iPhone or power.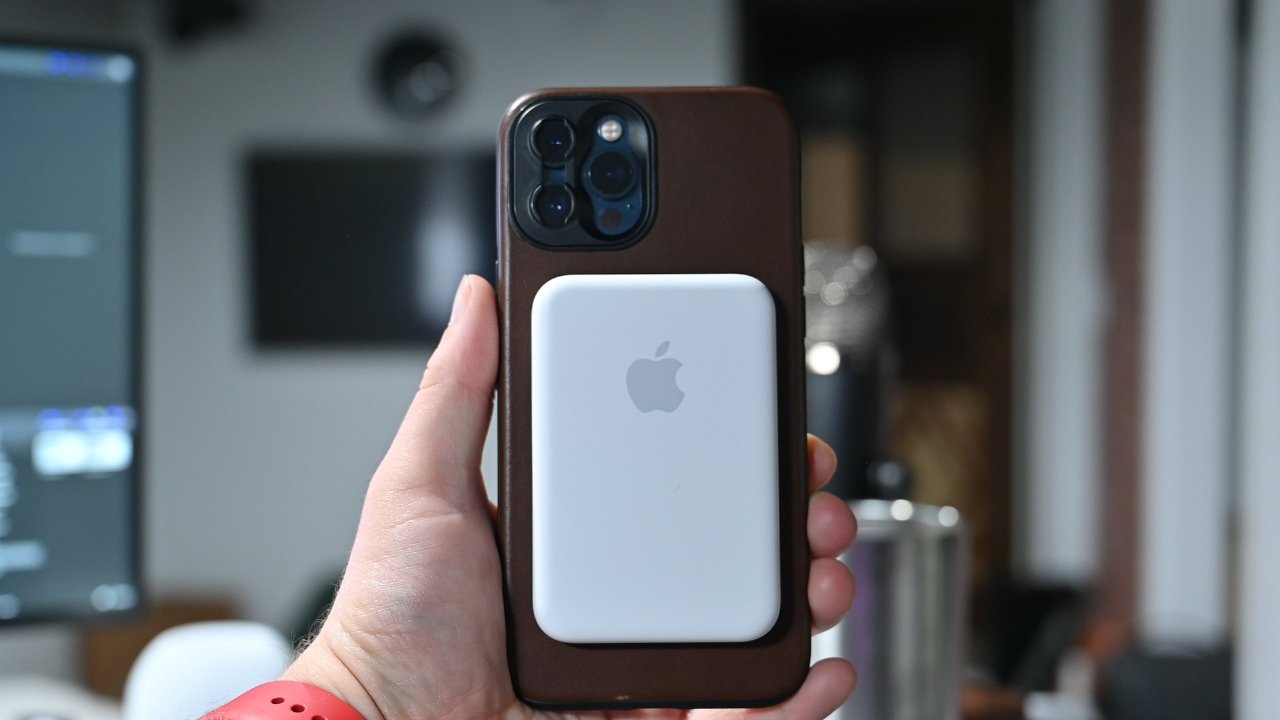 The MagSafe connection feels strong enough to grip the battery pack without fear of the iPhone dropping away. In addition, the strength of the magnetic connection feels stronger when using an official MagSafe case, likely due to the proximity of the magnets.
When anything MagSafe is used with leather cases, expect a slight indentation from the MagSafe magnets. This is expected and described in the product support information by Apple.
The MagSafe Battery Pack has a 1,460mAh capacity at 7.62V. This translates to roughly 2,920mAh since the iPhone has a 3.81V rating.
Since the battery pack sits external to the iPhone, it isn't dependent on design compatibility. Users who purchased the MagSafe Battery Pack for iPhone 12 can continue to use it with the iPhone 13 and the iPhone 14.
Capacity Explained
Neither the 1,460mAh rating nor the 2,920mAh adjusted rating tells the whole story. Thanks to power transfer efficiency, neither of these numbers can define what the MagSafe Battery Pack is capable of providing.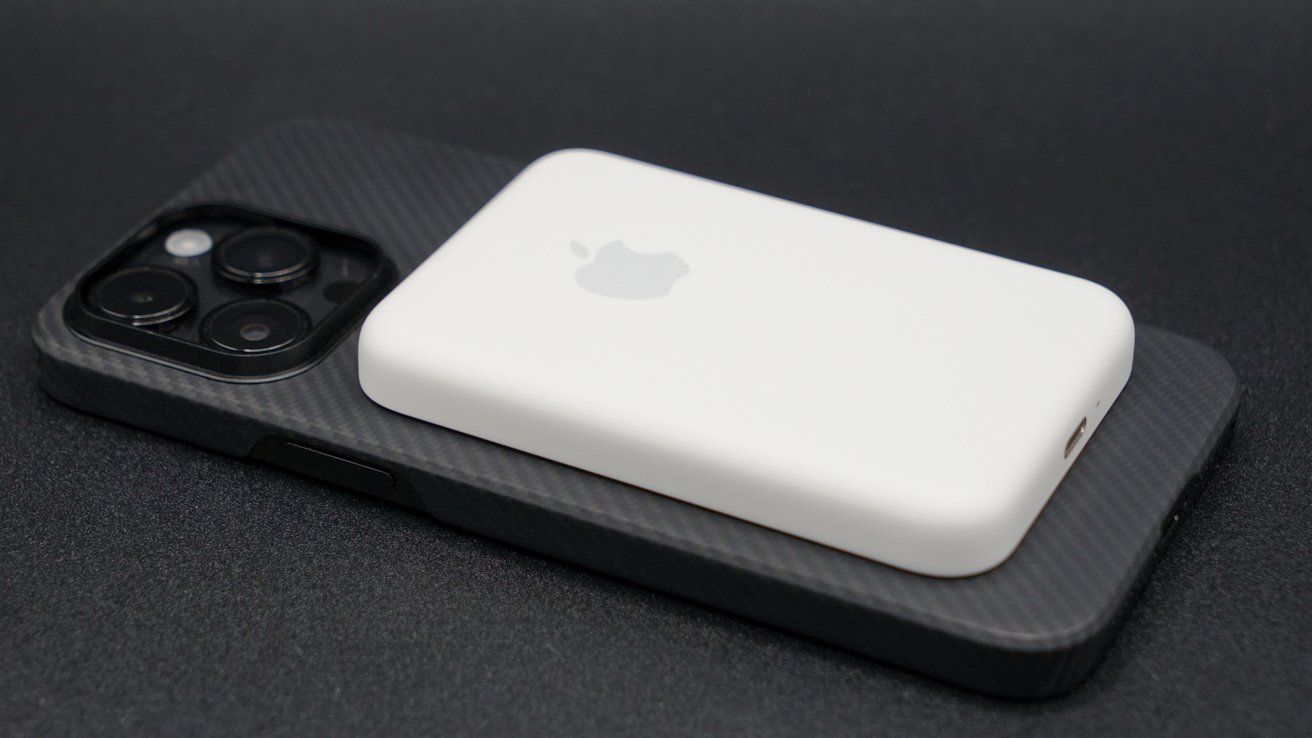 Several factors affect how well a battery pack performs, and while AppleInsider covered this in-depth before, here's a quick overview.
Regular Qi chargers are estimated to have about 50% efficiency. Unfortunately, this means a battery pack rated at 5,000mAh will only provide about 2,500mAh to the iPhone.
Testing shows that MagSafe can charge at a much higher efficiency, around 70%. This means Apple's 2,920mAh equivalent battery can charge an iPhone about 2,000mAh before being exhausted.
AppleInsider put this to the test with an iPhone 12 Pro Max at 1% battery. It charged 53% before the MagSafe Battery pack was completely discharged — in line with our expectations and the calculated 2,000mAh.
Reception and Controversy
When it announced the MagSafe Battery Pack, Apple didn't provide any specifications, which led to the usual rampant speculation and drama surrounding Apple products. Fans hopeful for a high-capacity battery were disappointed by the 1,460mAh found on a regulatory label in official Apple photos.
It seemed that Apple was charging more than double to prices of its competitors for a seemingly weak device. However, as explained in the previous section, these early reports were overblown, and we've found that 2,000mAh for the battery size is more than adequate.
Third-party accessory makers like Anker provide battery packs with the MagSafe moniker but don't offer many of the same features found in Apple's. Qi charging is highly inefficient, and these batteries often require a power button or switch, so users have to remember to turn them off and on.
The third-party options are often much thicker for very little capacity advantage. As previously mentioned, a large and heavy 5,000mAh Qi-based battery will provide only a 2,500mAh charge, that's only 500mAh more than Apple's with none of the other perks.
The proprietary nature of the MagSafe Battery Pack does cause some competitive issues. Apple is the only one with built-in system animations, dedicated widget glyphs, and smart device paring and control.
Review
Despite controversy and the proprietary nature of Apple's MagSafe Battery Pack, we found it has quickly become one of our go-to accessories.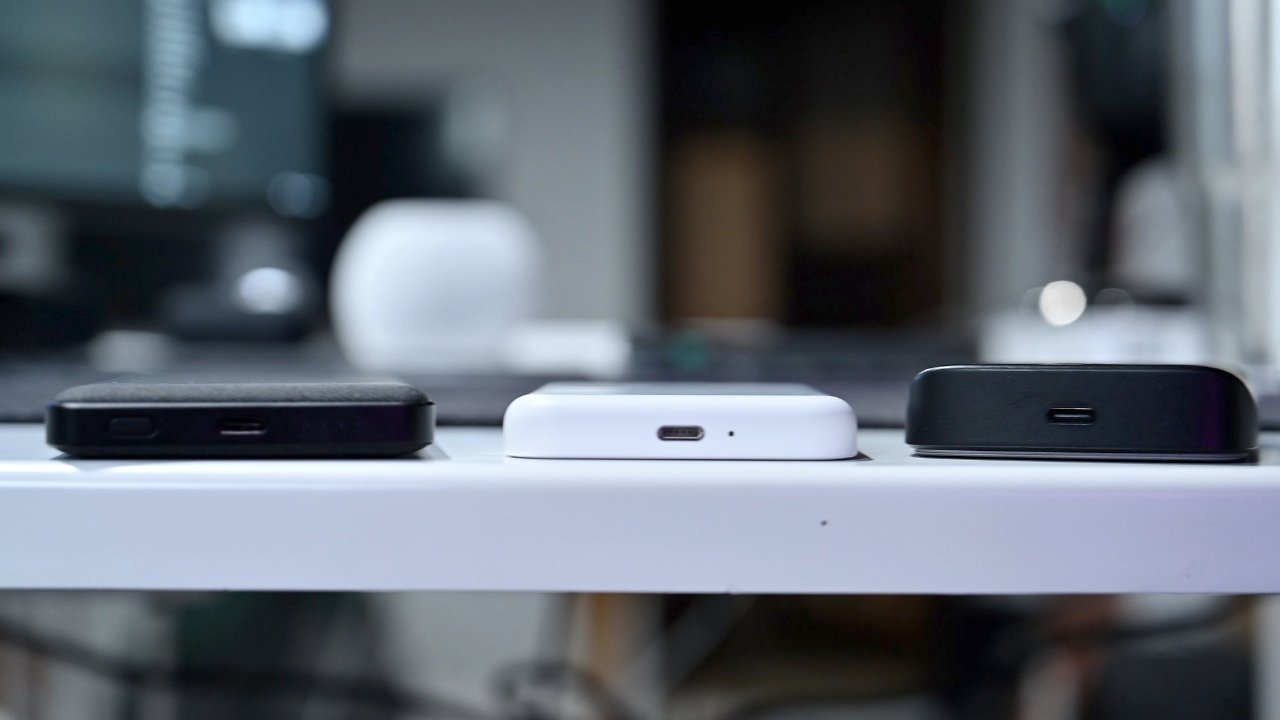 The simple design and no-button-needed interface are much better than third-party alternatives. Apple's battery pack is thinner and lighter than the other options as well.
The system-wide animations and other small touches set this battery pack apart. When connected to an iPhone, a notification alerts the user how much charge the battery could provide.
Our testing revealed that charging a drained iPhone 12 Pro Max to 53% took about two hours. It produced very little heat and added hours of use to the large iPhone.
We like that the battery pack will charge while the connected iPhone is wired into CarPlay. The reverse charging feature is only available on Apple's battery pack and adds another reason for the higher price.
You cannot charge the battery pack using Qi or Apple's MagSafe Charger. That means if you've gone all-in on wireless charging, you'll still need at least one Lightning charger for Apple's battery pack.
While the MagSafe Battery Pack isn't for everyone, we believe it is the best MagSafe-compatible battery pack on the market so far. The unique feature set and small size make it a standout option.
Price
Customers can buy the MagSafe Battery Pack for $99 from the Apple Store and other retailers. It is only available in white, though some accessory makers like Nomad are making skins to add some extra flair to the device.